Want to try this program for FREE? Check out 'Class Curriculum' below. Everything that says 'Preview' is FREE!
You have access to the following:
What is Rebuild Yourself?
The Warm up section.
The first 3 training days underneath 'Training Block 1'. This includes an upper body weight training day, a lower body weight training day and a mobility / cardio day.
Rebuild Yourself to Look, Move and Perform Better
Ever trained with a nagging joint? Or resigned yourself to tight muscles? Do you feel like your body is breaking down and it's a real struggle to make gains?
You can train SMARTER.
Tune up your physique, enhance joint health and become fitter and healthier with this program.
It's about gains that don't lead to pains.
I want to stay strong, lean and fit for life. I learned from the best and put that knowledge into practice for myself. Then I made it my career. I've trained elite athletes, gotten Hollywood actors in shape and work with clients every day to get them looking, moving and performing better. I practice what I preach and you can see me (literally) go through the right motions on instagram.
It's my business and passion to get people moving and training better.
You can only do that with a well-rounded routine that's looking for longevity. Not just chest, legs, and back days with arbitrary stretches thrown in. Or the odd bit of cardio to see how the ticker is feeling.
How will it improve you?
To REBUILD YOUR BODY, we are going to do things differently. We are going to use 3 key components: functional weight training, cardio & mobility.
'Functional' Weight Training
This means it's well-balanced and there is a functional carryover to life outside the gym. There are 5 fundamental movement patterns to master. Think squat, hinge, lunge, push, pull - most of which are criminally ignored. You'll get to train with a variety of exercises across these patterns to update what you've been doing and rebuild a stronger foundation.
Isolation Exercises
This program is not ignorant about aesthetics. These will help with that. But we'll also target muscles that are often weak and underdeveloped. This helps to bring greater overall muscular balance and stability to the body, so you look better AND become more resilient against injury.
Targeted Core Work
There's a SMARTER way than endless crunches. You'll build a strong and stable core. This will bulletproof your low back, enhance your body's performance AND give you a rock hard mid-section. It's a triple win!
Cardio Training
A combination of weights and cardio is a powerful way to lose fat and get better aesthetics. Beyond looks, a strong base of aerobic fitness will increase your work capacity. This means you can train harder for longer. It will speed up your ability to recover between workouts and give you more energy outside the gym. Correct cardio training will get you fitter, healthier and feeling fantastic.
Mobility Training
This is the missing link in most people's training. And it's key to feeling better in your body. If you neglect it, the body becomes stiffer and seizes up over time. It's why so many people compensate or modify exercises to compromise for poor range of motion.
Mobility work is weaved throughout this program. You'll find it in the warm ups and have a progressive mobility plan for your hips, shoulders and spine. It's going to unglue stiff tissues, grease up those cranky joints and get you moving better. You'll get better results and build resilient joints in the process.
My plan for you over the next 12 weeks...
Over the next 12 weeks, you will progress through three 4-week blocks of training. Each block is structured the same but the exercise selection and training variables will be different. It's a progressive program.
Expect to:
Rebuild your Physique
You'll lay a stronger foundation. Your body will be well-balanced with lean, functional muscle.
Rebuild your Lifts
You'll work through joint-friendly variations of the 'big 3' (squat, bench and deadlift). It'll show you how to master movement patterns, enhance stability and become stronger and more efficient with the barbell.
Rebuild your Joints
Through a combination of joint-friendly, free weight exercises and direct mobility work. You'll expand range of motion, rid yourself of tight muscles and increase resilience to injury. You'll move better and exercises will feel smoother.
Rebuild your Engine
You'll build a solid foundation of aerobic fitness and an efficient cardiovascular system. You'll be able to train harder and recover faster. It'll make you look (and genuinely be) fitter and healthier.
What's Inside?
12 Weeks of Progressive Training to Rebuild Your Body.
There are three 4 week blocks of training. They are carefully planned to see maximum results.
Each week features 6 training sessions: 4 weights and 2 mobility / cardio days.
That sounds intense, but this mixed method of exercises helps your recovery and won't burn you out. You'll feel ready to crush the gym each time. The program can be adjusted down to 4 days and up to 7 if you want to sneak in an extra cardio / active recovery day.
Over 100 High Quality Exercise Demo's with Coaching Cues.
Each and every weight training exercise has been filmed in crisp HD. I personally perform every exercise to the exact prescribed tempo to give you a clear visual of exercise form. There are descriptions with cues to help you master the movements underneath too. You can view and perform the workouts in REAL TIME. No messing around.
The mobility specific exercises go one step further with full instructional speak-to-cam videos. As these exercises will most likely be new to you, a quick visual and worded description wouldn't cut it. I've handpicked the best bang for your buck mobility moves for the key areas: shoulders, hips and spine.
NOT another PDF - Play Each Workout Right From Your Phone.
This program is the closest thing to having me as your PT. There's no clicking loads of links and jumping from page to page. Choose your session and simply scroll down as you complete one exercise to the next. That means you can play your workouts in REAL TIME and follow along with ease.
A Comprehensive Nutrition Section
No stone is left unturned. I'll show you how to calculate your daily calories and macronutrient split. You can work out what's specific to your body type and body composition goal. Going into ultra-close nutritional detail is not a requirement to be successful with this program. But it's a great practice to get an understanding of the types of foods and quantities you SHOULD be eating for success.
I have included 3 good nutrition habits and peri-workout recommendations (before, during and immediately after training). There's also a breakdown of the different food groups. You'll gain a solid understanding of how nutrition plays into performance and recovery. This will help you structure a meal plan that's right for you.
Frequently Asked Questions
Is this a one time payment?
Yes! After enrolling, you have unlimited access to this program for as long as you like - across any and all devices you own.
Who is this program for? Is it suitable for beginners?
This program is for experienced gym goers and trainees with at least a couple of years' experience in the weight room. You certainly do not have to be advanced though. You should be confident with the basics: squats, deadlifts, bench press, DB rows, push ups, etc. It's a challenging program, but it's structured in a way that will allow you to train HARD and recover HARDER.
How many days per week is this program? Is it customisable?
Rebuild Yourself has been designed as a 6 day per week program. Each week features 4 weight training days and 2 mobility / cardio days. That said, it can easily be customised to 4 or 5 days. You will just have to remove either one or two of the cardio / mobility days. I would not recommend pulling out a weight training day as this upper / lower split has been designed based on 4 weight training days per week. I show you exactly how to scale the program for 4 and 5 day weeks.
What equipment will I need?
Rebuild Yourself uses free-weights and body loaded exercises, so the equipment needs are minimal. Any commercial or box gym should have all the basis covered: Weight Training Check List: Dumbells. Barbell and weight plates. Landmine (This is an attachment that a Barbell slots into. If your gym doesn't have one, that's ok! You can simply wedge the bar into a corner). Cable-cross machine (If you don't have one, that's ok. Alternative exercise options will be given). Adjustable bench. Squat rack. Cardio Check List: You have the freedom to choose your method. For the steady state cardio, ONE of the following is recommended: Bike, Assault bike, Cross trainer, Treadmill. For the interval cardio, ONE of the following is recommended: Bike, Assault bike, Ski erg, Rower, Versa climber, Treadmill.
How long do the workouts take?
The weight training sessions will take roughly 60 minutes (that includes the warm up). The mobility / cardio session is a little more versatile. The mobility is split into shoulders, hips and spine. So you can chose the area you would like to work on or perform it all. And so, the mobility work can takes anywhere from 15-45 minutes. The cardio sessions are all between 30-45 minutes. I REBUILT my own body using these exercises and movements. And now I'm going to help you do the same.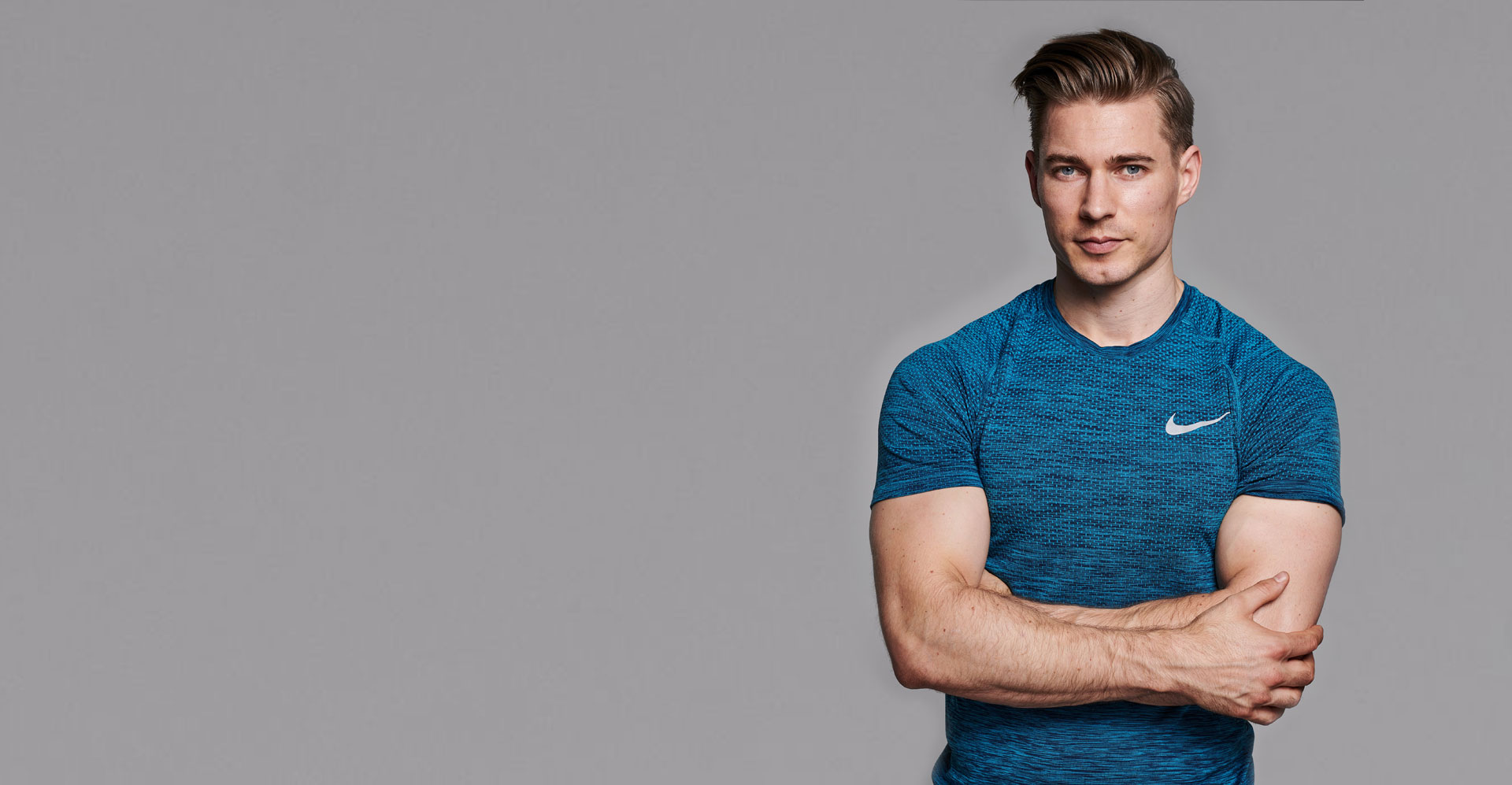 CERTIFIED TRAINER, STRENGTH COACH AND LICENSED MASSAGE THERAPIST.
Jack Hanrahan (CSCS) is a certified trainer, strength coach and soft tissue therapist who has worked with a wide array of clients across the globe, including athletes and actors on films such as X-Men Apocalypse and Bohemian Rhapsody. His no-BS, balanced approach to health and fitness has led him to become one of today's most trusted voices in the industry. To date, Jack has helped thousands of people through his online courses and social media platforms, promoting a smarter approach to training that improves the way they look, move, and feel.
Jack is a dedicated learner of the latest research and methodologies in sports and exercise science. Since graduating with a B. Sc. in Physical Education, he has gone on to earn certifications through the National Association of Strength and Conditioning, Function Range Systems, StrongFirst, Precision Nutrition, and also holds diplomas in Soft Tissue Therapy and Advanced Neuromuscular Therapy.
His fitness advice has been featured in MensHealth, MensFitness, The Times, Esquire, GQ, Harpers Bazaar, Vogue, and more, and he contributes regularly to Polar's blog.
www.jackhanrahanfitness.com